COVID 19 Travel Restrictions Lifted – The Northshore Team's personal travel tips and recommendations!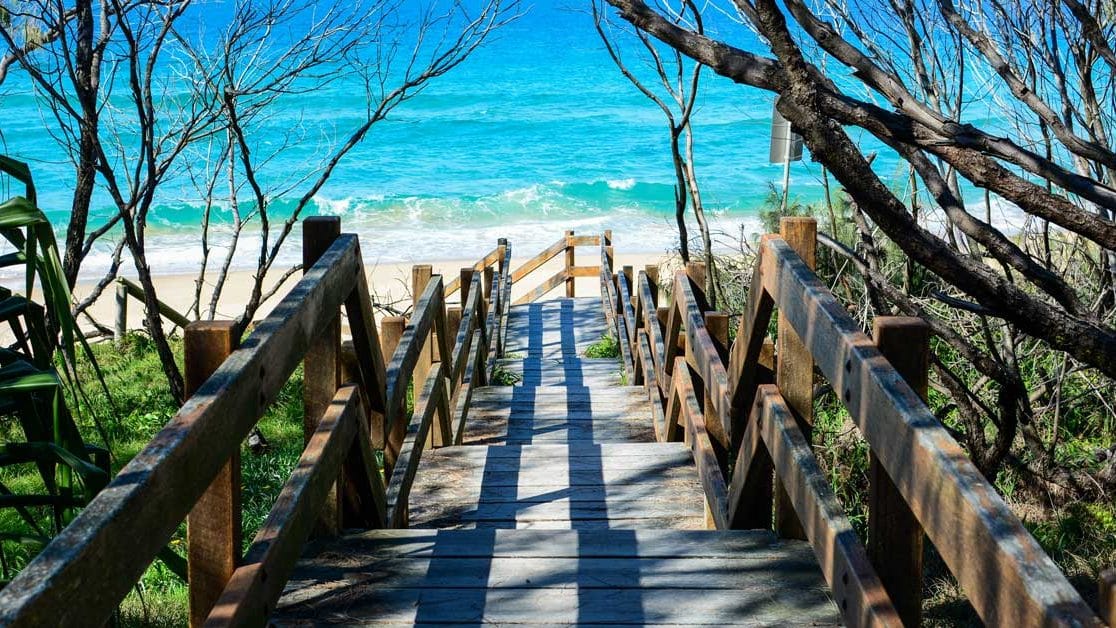 With the COVID-19 travel restrictions now lifted to Stage 2, Queensland is open for Queenslanders as of the 1st June for travel anywhere, anytime, for any reason. This is the time to start planning and ticking off your Queensland travel bucket list, and we thought we would help by putting together some travel tips and personal recommendations from our very own team members! Here is what the Northshore Team have to say:
Inskip Point
It has beautiful beaches, white sand, and very blue water. The ocean there is great for swimming and there are also some inland lakes/creeks. You can camp and drive right along the shoreline. There are also some inland 4WD tracks which are incredibly fun terrain.
Stradbroke Island
Stradbroke Island is a beautiful island with a wide range of family activities. You can camp on Stradbroke by travelling over on a regular barge. The water here is exceptional and there are quite often dolphins and whales hanging around depending on the season. There are some great hikes to Brown Lake (Teatree Lake), and it is a perfect relaxation adventure holiday combo.
Neurum creek
Located just near Kilcoy you will find a beautiful family-run bush campground called Neurum Creek Bush Retreat. Here there is an abundance of 4WD tracks with a variety of terrains for all experience levels. You can drive through and find the freshwater creek complete with a waterfall. It is a lovely family spot with the options for some fun adventures.
Bundaberg
This part of the coast is a hidden treasure of beauty. There is a beautiful beachy town about 10 minutes from Bundaberg town centre known as Bargara. Here there are lovely coastal bars and cafes and a beautiful campground just a 100m walk to the beach. You can book a tour out to lady Elliot island which is the island at the most southern point of the great barrier reef. It is known for crystal clear water, abundant marine life and relaxation!
The star attraction in Bundaberg, however, is Mon Repos. Mon Repos is a beach just outside of Bundaberg that is known for turtle nesting. There is a conservation centre with information on sea turtles and their nesting habits. You can also book experiences where you can assist and witness turtles hatching. This is a great one for the family.
Then for the adults, of course, there is the Bundaberg rum factory tour. This tour is so fascinating and includes two samples of special addition Bundaberg rum. Bundaberg has something for everyone, and it is an easy drive from the Brisbane area.
Mooloolaba
Only about an hour from Brisbane are some of the most beautiful beaches and cool coastal spots. Mooloolaba has a lovely esplanade with lots of restaurants, or you can head over to the Mooloolaba Wharf for a lovely view of the marina with excellent bars and a range of restaurants (we highly recommend Riceboi or Ninth Street!).
Take the kids to SEA LIFE Sunshine Coast Aquarium where there are amazing marine animals to view and an awesome seal show (and even the option to get a seal kiss photo!).
Then you can book a tour with Sunreef and go snorkelling on Old Woman Island reef, whale watching, or even swimming with the whales. Mooloolaba is a great place to see some whales around this time of year.
There are some great campsites that are just a quick walk to the beach or some affordable modern hotels. Mooloolaba is close, community-based, and has everything needed for a fun, relaxing beach holiday.

Kenilworth
This time of the year is perfect for camping – cooler days to explore and hike around, and cold nights to sit around next to campfires. If you travel to Kenilworth you can camp alongside Bluff Creek and Mary River at the Kenilworth Bluff Campground, where the camp spots are secluded for privacy and located alongside Bluff Creek. There are plenty of national parks and waterfalls to explore whilst trying out the town's cheese-making factory: Kenilworth Dairies. Or you can head in and explore the famous Eumundi Markets! 
Nearby, in the Conondale National Park, visit the Boolouma Falls which is a stunning freshwater creek that has a beautiful flowing waterfall. This fall is quite a drive, and you will definitely need a 4WD, but it is a fun and adventurous track through a beautiful rainforest. Camping is also offered.
Rainbow beach
This is a favourite, especially at this time of the year because it is great for spotting the whales just off the beach. There is nothing like driving along Rainbow Beach and a whale breaches out of the water just beside you. A very quiet little town which is great for a bit of Rest and Relaxation.
Moreton Island
This is an all-time Queenslander favourite. You are almost guaranteed to see dolphins at Moreton, and can even watch the dolphin feeding at the jetty of a night time. You are almost guaranteed to see dolphins at Moreton, along with fish, starfish, reef sharks, dolphins, sea turtles and dugongs. The water here is crystal clear, and sand is snow-white, and the island has options and activities no matter what your holiday style is. 
For accommodation, you can opt to catch a ferry over and stay at the beautiful Tangalooma Island Resort where you can do an extensive range of adventure tours, including, sand tobogganing, parasailing and quad biking while also being able to enjoy cooked meals and cocktails.
Alternatively, if you love camping, take your car across on the barge and camp on the island. There are 4WD tracks everywhere and astonishing views. Wherever you choose to stay, you must snorkel on the Tangalooma Island Wrecks. These are ships that have been purposefully sunk to create a windbreak for other ships wanting to anchor in the bay. The result of this is a reef-forming on these ships creating a safe home for numerous sea life.
Double Island Point
This is a national park, and you can only access Double Island Point via 4WD or on foot. You can drive down the "Leisha Track" to a small bay area that is sheltered by the point. Here the water is normally as calm as a lake and crystal clear. You will find lots of starfish hanging out on the sand floor and will most likely see dolphins frolicking in the distance. If you have a jet ski the beach terrain is gentle enough to keep your ski on your car and the bay is calm enough to launch directly from the beach. It is a lovely ski ride. There is also a lovely old lighthouse on the point where you can hike up to enjoy the beautiful view. You will also need a Vehicle Access Permit to travel.
Fraser Island
There are plenty of places to go for a day trip on Fraser, or alternatively it is a great place to camp or stay in any of the resort-style accommodation on offer. It is the place to go to explore rainforest that grows from sand!
There are some beautiful sights to see, like the Champagne pools which are naturally formed rock pools where a high tide, the waves crashing over nearby rocks fill these pools with frothy bubbles like a glass of champagne! There are also many different lakes, rain forest trails, and lots of wildlife to see.
Bribie Island
Another very local favourite. Bribie Island has some exceptional campgrounds that are only a short walk to some stunning beaches. You can also drive and camp on the beach at Woorim if you are wanting some 4WD adventure. There are some excellent inland tracks to test out with some calm ocean off flow lakes great for swimming. Dolphins will very often hang around Bribie and tend to be very friendly and playful. If you have a boat or jet ski there are plenty of boat ramps on Bribie where you can head out, exploring, fishing, wave jumping or dolphin searching.
Somerset Dam
If you have a jet ski or a boat, Somerset Dam is the place to really enjoy their abilities. You can fish, swim, kneeboard, wakeboard and every water sport in between. You have the option of camping at the Lake Somerset Holiday Park with power and direct access to the dam, or you can camp up in the mountain a bit more where there is a very small corner store/pub and cattle roaming, then it is just a short drive to the boat ramp. Somerset offers a genuine Australian camping experience.