Colin Mackay – Director
Hi I am Colin, and I have been working in the Pet/Animal Industry in one way or another my whole life. After finished school, I went on to complete a Bachelor of Agricultural Science, and spent my spare time working at Samford Pet Resort. After completing my Degree I spent several years working in the Agricultural Industry as an Assistant Feeding Manager at a large Australian Feedlot, and Sales Nutritionist for an Australian Stock Feed Company. When the opportunity arose for my wife and I to establish our own Pet Resort, we jumped at the opportunity. It gave us both the opportunity to work in one place for a change, put down some roots and start a family. In my spare time, I love hanging out with our 3 children, watching sports, and racing motorcars on the track.
Kylie Mackay – Director
Hi, I am Kylie! I have been around dogs and cats literally my entire life. My parents bred dogs well before they had children, and then quickly established their own businesses called the Samford Pet Resort.
I grew up there with my parents, my brother, and my grandparents. Growing up, we always helped out in the business and spent a lot of time as a family working at the Resort.

After school I pursued another passion of mine, flying aeroplanes! I went on to complete a Bachelor of Aviation, my Airline Transport Pilot's Licence, and gained a position with an Australian airline as a First Officer. During those years, we established the Northshore Pet Resort, and while I am taking time off from flying jets to raise our 3 beautiful little children, I am loving running our Resort alongside Colin and teaching our young family all about the dogs and cats that stay here with us at the Resort.

Since the Resort's establishment in 2009, our service has become popular and we as a result we are now expanding the Resort to allow for more pets to stay with us for their holidays. When I am not working, I love spending time with our 3 little children (the days a long, but the years are short!), reading a good book, and going to the beach.
Liam Mellor – Kennel Technician
Hi, I'm Liam, and I joined the team just over 4 years ago. I started as a junior and decided to pursue it as a career after leaving high school. I have completed my Certificate 3 in Companion Animal Services as a trainee in the program mentored by Northshore Pet Resort.

In my spare time I love watching movies, musicals and playing PlayStation with my friends while my pets (a Pug cross and Boston Terrier!) sit by my side.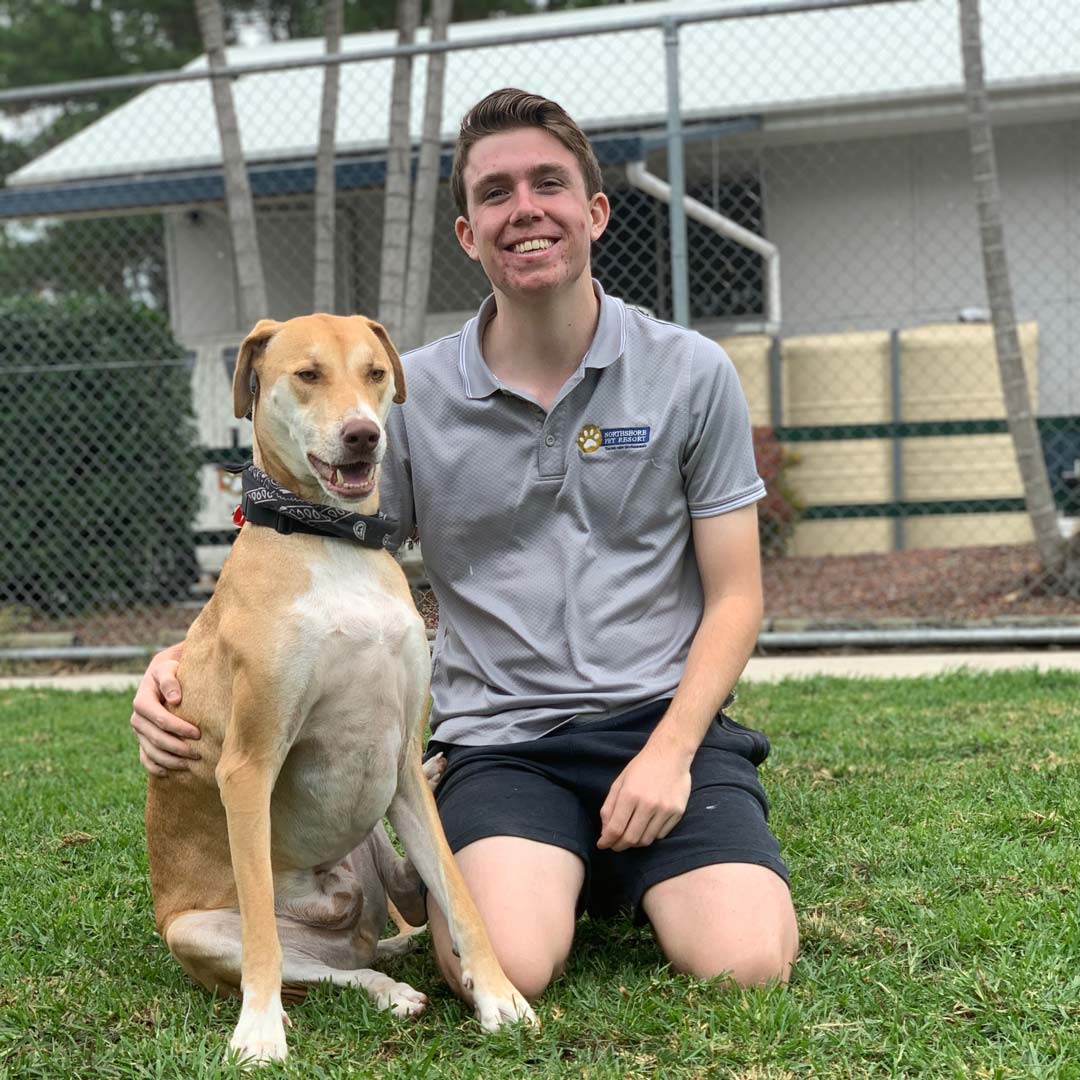 Taylor Dixon – Kennel Technician
Hi! My name is Taylor. I have been working with the NPR team as a Kennel Technician for around 4 years now.
I spend my time outside of work either playing with my dogs (Taco & Boss), building up my small business of hand sewed dog clothes, or studying to become a canine behaviourist/trainer. I have always had a passion for dogs and their behaviour, and I've dedicated myself to help rehabilitate troubled dogs, whilst building the bond between a dog and its owner.
With my experience as a Kennel Technician and my passion for animals, I always put in all of my effort to give your pets the best experience and comfort while they stay with us, so you as owners can travel with no worries.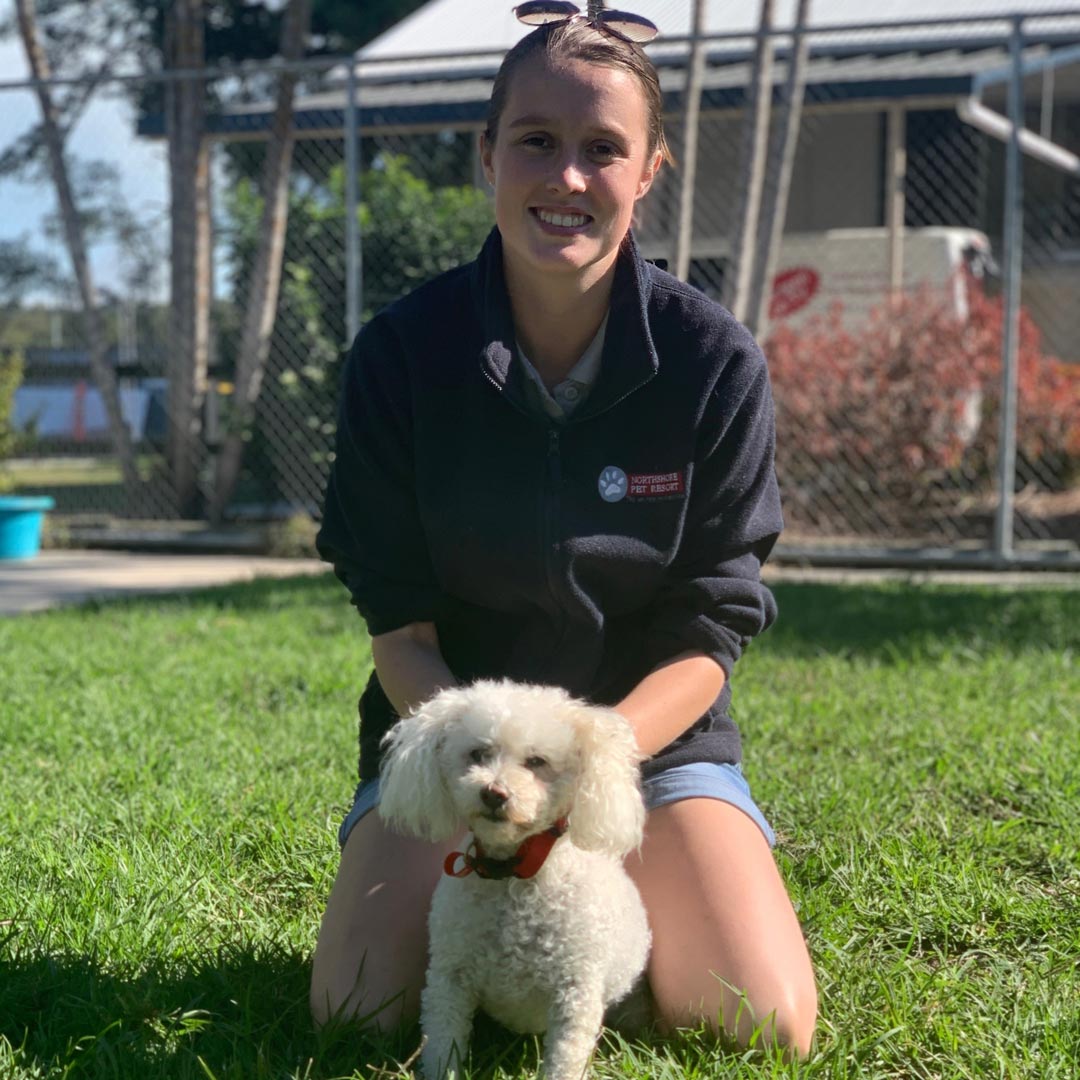 © 2018 – Northshore Pet Resort | All rights reserved