If you'd like to see how you pet is doing whilst you're away, we now have an online service called "My Pet Space".
This lets you log on to our website, view your pet enjoying their time at Northshore Pet Resort and keep track of your pet while they stay at our resort.
Whilst we're sure they're missing you too, this is a great way to see how they're going. A small charge is made for this service so ask at reception when making your booking and we can explain the costs in detail, or see prices for extra services.
Book your pet in for a professional clip and groom with our onsite groomer, Julie.
Julie Chapman has been a professional Dog Groomer for 32 years. Julie owned her own salon early on in her career in Scarborough for 7 years, before taking a break to have a family. After returning to work, she was a groomer at the Peninsula Veterinary Surgery for 9 years, and in mid 2014 she started her own business Brush Puppies and began operating out of Northshore Pet Resort.
In 2010 she won Best Groomer of the Year Award from the Master Dog Breeders And Associates (MDBA). Julie also has experience as a veterinary nurse and a dog obedience instructor, and has competed multiple courses in dog grooming, grooming expos, dog obedience, companion animal hygienist, first aid and natural treatments for pets. Julie has trained all of her own dogs and currently has lots of animals at home, including her beautiful boxer Bella, all very much loved by her family.
Grooming and Clipping is available every Tuesday, Wednesday and Thursday – by appointment only.
Contact Julie on 0497 133 999 to make a booking. She will be able to guide you accurately with appropriate pricing for various breeds of dogs.
Please call Julie on 0497 133 999 anytime for a full list of her current pricing.
Jordan Dog Training use simple, effective positive reinforcement techniques that are recommended by industry professionals around the country.
Our training methods are based on the domestic dog's instinctive pack behaviour, using only positive reinforcement and rewards. No fear-based or harsh methods are used.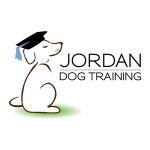 Our vision for Jordan Dog Training is to enhance the relationship between dogs and their owners, ultimately reducing the number of animals that are surrendered or euthanised, by teaching guardians how to communicate effectively with their dogs.
Our in-home dog training sessions, group obedience classes and puppy schools teach dog owners the value of communicating gently and intelligently with their pets, (sometimes known as dog whispering) and teach them how to think in a more canine way for more successful interaction and problem solving. In addition to running puppy schools which teach new puppy owners how to lay the foundations for a happy, healthy puppy and prevent potential problems, we are also experienced in addressing problems in dogs of all ages.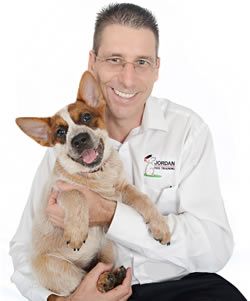 Some of the common problems which we often see and are able to resolve include:
Barking
Disobedience
Separation anxiety
Destructive behaviour
Aggression
Jumping up on people
Pulling on the lead
Nervousness
We assess the dog and the environment, and develop an individual training program to solve these doggy problems and many more. Our gentle methods are effective and produce long term results as they treat the cause of the problem, not just the symptoms.
Introducing Justin Jordan & team
Justin Jordan is the founder of Jordan Dog Training. As a master trainer, he has over 25 years' experience training dogs, running obedience classes and puppy schools and helping to solve behavioural issues. 
Considered a specialist in canine body language, Justin's training methods encourage stronger bonds between dogs and handlers, transforming dogs across greater Brisbane into well-mannered canine citizens. Justin is passionate about animal welfare and bettering the outcomes for dogs in need.  He lends heavy support to the pet industry, volunteering his time and expertise to rescue groups, shelters and fundraising events. Mia Venn – As a trained ICU nurse for many years before delving into full-time animal care, Mia is passionate about working with dogs. That passion took her to many overseas countries, including India, where she spent two years working in animal shelters, assisting with rescue efforts and dealing with human abuse of dogs. There, Mia lent her assistance with a large population of street dogs and their associated issues such as malnutrition, disabilities, fear-based aggression and diseases such as mange, rabies and distemper. She also undertook their routine care such as feeding and watering, and helped to keep the population in check and healthy by assisting with desexing and vaccinations of street dogs. While in India, Mia was also a key member of a group that visited schools and educated children on how to not be fearful around street dogs, how to approach dogs, and how to handle and care for a pet in a respectful and safe way. Mia is now excited to join the team at Jordan Dog Training where she can continue to use her valuable skills in dog training, canine body language and communication and her interest in animal welfare to improve the lives and outcomes for dogs and their owners alike.
BAC Photography - Northlakes
Belinda from BAC Photography is a family photographer based in North Lakes, who specialised in family, newborn baby, maternity and pet photography. She has personally photographed the Northshore Family (both human newborns and the fur babies!) and has the most amazing patience and skills to be able to capture the perfect shots to treasure for a lifetime.
You can visit her webpage here
https://www.bacphotography.com.au/ or go directly to the Pet Photography page here
I love to capture special moments and document life, whether that be children playing, a dramatic landscape, crazy animals or spring flowers. To me photographs are precious memories that last a lifetime.
We would be lost without our family pet, so it just makes sense to get a portrait of them. Either on their own or with the whole family or even just with the kids! Sadly, they can't be here forever, so it's important to have photos for memories in years to come.
I am a traveller at heart. I love my family and cherish our time together. I love music, art and food, movies and fun. I love swimming and by contrast, love snow! Who doesn't love to make a snowman? Yes, I am just a big kid!
I can photograph you and your family at a location of your choice, or you can come to us at our North Lakes studio, for a relaxed portrait session.
Our beautiful photos and films are classic and stylish for your family. They have a timeless and offer quality that means you can treasure them for years to come.
© 2018 – Northshore Pet Resort | All rights reserved